(Translator's note: This post is a continuation of a previous entry.)
I: What do you look for in a boyfriend?
YA: One who tries hard in what he does. I really respect that. I don't like ones who look down on people and I really despise playboys.
I: Going back to our theme, what kind of future titles would you like to do with EROTICA?
E: We'd love to do something with a cosplay theme. Also, we'd like to go abroad to somewhere warm and tropical.
YA: I'd love to get away from Tokyo and go on a vacation somewhere...in private of course.
I: Have you traveled anywhere recently?
YA: Sapporo—and that popped in my head right away.
I: Was there a big reason for wanting to travel there?
YA: Not entirely. I just wanted to visit a place that is beautiful.
I: Can you make any recommendations?
YA: Yes! The wild plants in Nagano are incredibly delicious. Nothing else compares!
I: You sure know your places. Have you been around the country for AV shoots as well?
E: Maybe she can make one in each prefecture?
YA: That'd be cool, but I'd like to leave it up to a random roll of dice just how You Ouzumi did in that drama he was in.
I: It'd be nice if you ended up somewhere south like Okinawa.
YA: I'm not too good in the sun. I get dizzy if out too long.
I: Noctivagous are we?
YA: Not at all. I sleep when it's dark out.
I: You seem to have an easy-going personality.
YA: I'm often told that. In particular, people tell me I have a friendly aura.
I: Asakura-san is very well put together I'd say and that's a good match for being in EROTICA titles.
YA: Sometimes I really gotta force through a chirpy act though.
I: Is that so?
YA: Is that a bad thing?
E: What one thinks about herself can be very different than what people think about her.
I: Alright, aside from your crush on that actor, do you have any other hobbies?
YA: Games.
E: We've actually been looking at attracting people who are fans of the anime and game market. Games that are famous one year should have AV productions based on them as soon as possible.
I: Is there a certain type of kikaku production you'd like to make?
E: We're always looking to expand and outdo ourselves so up next we're going to focus more on perverted productions. However, our view of what's perverted is probably different than our fans so we'll let them decide how to go about this.
I: Do you feel like the you are catering more to the growing population of fans with increasingly refined tastes?
E: Yes, I think so. One of the first things we do is ask our burgeoning community about what they like and dislike about box art covers. We'll often hear things in regards to criticism of angles used along with being misled about the looks of the model and this is something we aim to amend.
I: Any closing words? Anything you'd like to say to your fans?
YA: I had a serious amount of fun starring in my first EROTICA production so I urge you all to check it out! However, my regular fellatio face is a lot different than how I look on the back cover. I think I'll stick around with them and release more titles that show off even more of myself.
E: I think we made a good choice enlisting Yuu Asakura to star in our first production. We're really thankful to her for taking part. EROTICA is the fan-oriented adult video production company. Check out our homepage when you have a moment and participate on our BBS. We're here to satisfy your craving for innovative Japanese AV.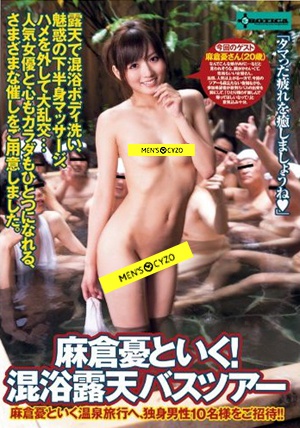 Men's Cyzo recommends this title to readers of this article.
(Translator's note: Cover box fraud is a major concern for fans of Japanese AV. This is the number one complaint amongst major fans of adult video. The covers of movies today are much more stylized than those of the past and airbrushing has gotten way out of hand. Even the most stunning AV stars are modified to unnatural levels of beauty which cannot be matched during the actual productions.)